Swimming Pool Blog
Variable speed pool pumps - Who Cares?!?
Rob Cox, February 29, 2012
Variable speed pool pumps - why all the fuss?
Imagine the gas consumption your car would have if, no matter what - your engine always ran at 3400 RPM. Standard pool pumps operate at 3400 rpm, all the time. No matter if they are pumping anything or not. Flip them on, and the capacitor quickly bumps it up to full, maximum speed.
Variable speed motors, on the other hand, turn only as fast as they need to, to get the job done. Or, flow rates can be programmed. The motors used on variable speed pool pumps are different than normal stator/rotor types of electric motors. Permanent magnet design runs cooler, lasts longer and is extremely quiet.
But why all the talk of variable speed pumps? In states such as Arizona, Florida, California and Texas, laws are now on the books that are requiring pump or motor replacements to be done using a dual speed or variable speed pump or motor. Expect a similar law to come to your backyard soon, unless you live in a state where energy is cheap and plentiful?
You may be surprised to know how much the pool pump is adding to your monthly electric bill. In some areas of the country, running a pool pump can cost hundreds per month, for larger pumps or multi-pump systems. Even in our area, the Mid-Atlantic, where power is fairly inexpensive, an Intelliflo pump would save me $195 per year, running a 1hp pump, 10 hrs per day, for 5 months, according to the Pentair Savings Calculator. Enter your pool size and zip code. After the first calculation, change the 5 slide bars to match your pool, click "Back" and hit the Click Me button again to recalculate. Check your savings.
So, it saves money. But more importantly it reduces the demand on the energy grid, which is becoming important for our energy poor states. And when we reduce the demand of our energy utilities, we reduce the need for dams, coal combustion, nuclear power and other methods of energy production that create waste or pollution.
Another side benefit is that filtration is typically better at slower flow rates, and when filtration is better, we need to use less sanitizers to keep the pool water clear.
The Intelliflo pump by Pentair is just one option for the energy/eco minded pool owner these days. Many other players have entered this hot, new market of energy efficient pool pumps.
Hayward Tri-Star VS pumps are pretty slick. Fully programmable, with 8 custom settings, the control panel rotates to 4 directions, or can be wall mounted at eye level. Hayward pumps are known for reliability and performance, and extra large pump baskets! TriStar pumps utilize the Tri-Star line housing designs, and this low profile makes an easier retrofit for some pumps, especially for standard Hayward pumps.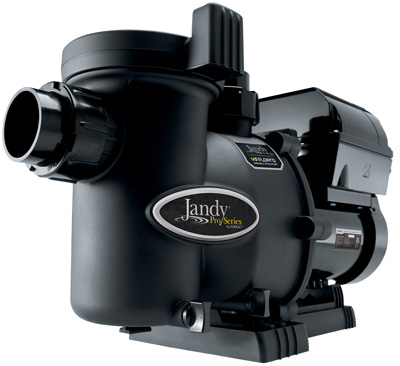 Jandy VS FloPro Variable Speed pumps are claiming a 90% reduction in energy costs with their market entry last summer into the eco-pool pump arena.The adjustable base makes it easy to line up to low-profile pumps such as Hayward Superpumps, or taller pumps such as Whisperflo or Challenger pumps. Try the VS FLoPro calculator to see what your energy savings could be.

Speck is a German company that has been making pool pumps for years. Big in Europe, not so well known in the U.S. The engineers at Speck have come up with a 3 speed (they also have a 2-speed and Variable speed models). This 3 speed, the Badu EcoM3, is an interesting idea, and is listed here because of it's reduced cost. It won't save as much money as a Variable speed pump will, but the initial price point is 25% less.

So, let's say that you're onboard with saving some cash, and the planet, etc ~ but laying out $950-$1250 for a pool pump is just too much. Some states will allow a Dual Speed pump in place of a full on Variable speed pump. The Hayward Superpump 2-speed pool pump has a nice price, and reliable performance. You can run the pump on low speed for most of the day, and use high speed as needed to keep the pool clean and clear.
Now, here's an interesting idea. From the engineers at H2Flow.net, we have the statement ~We don't make Pool Pumps, we make them More Efficient~. They have created a Eco-Flow-C Variable Frequency Drive. Meant for the commercial pool market, where huge energy savings can be realized. The Eco-Flow-C attaches to any existing commercial pool pump and turns it into a variable drive motor, at a cost less than replacement of the pool pump. Fits on pumps up from 1-1000 hp, slowing down the rate of flow to reduce energy usage by up to 50%.
Well, I hope that reading has stirred some thoughts regarding swimming pools and energy usage. There are many options available for a pool owner to operate his pool with more earth-friendly principles in mind. I for one, am glad to see our industry lead the way for other industries to become more efficient and ecology minded.